Chinese pastor John Cao is currently serving a 7-year prison sentence
Chinese pastor John Cao is currently serving a 7-year prison sentence, a punishment handed to him from the Chinese government after he helped build 16 schools for the Wa people, an impoverished minority group in Myanmar.
Cao's wife, Jamie Powell, shared her husband's story to a room full of dozens of religious civil society leaders from around the world.
"Spreading education wasn't just the side goal of my husband," said Powell. "It was his call from God. Education was the vehicle with which to enable freedom from poverty and moral wrongs."
Her husband began to be harassed by the Chinese government when he built schools in Guizhou and Yunnan, two provinces in southwestern China. Surveillance and questioning by officials persisted, despite Cao eventually turning the schools over to the government.
While a US green card holder who moved to the states to attend Alliance Seminary in Nyack, New York, Cao nevertheless kept his Chinese citizenship to continue missions work in his homeland, World reported last year.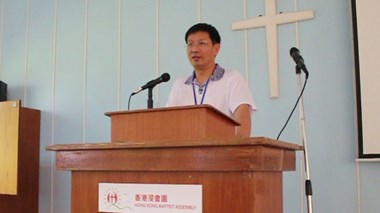 Cao grew passionate about working with communities across the Chinese/Burmese border after visiting the Kachin people in 2012.
"He was shocked by the poverty he saw," said Powell. "Children without clothes, child mortality rates really high, a makeshift school with a pigpen adjacent to the classroom."
Cao worked with fellow Chinese Christians to open schools in the community, ones that served around 2,000 students in Wa state.
Cao was arrested last March.
"It is clear to us now that John was set up for arrest because of his faith-driven work and accused of facilitating organized border crossing," said Powell. "This charge is often used to prosecute human traffickers."
Cao was convicted this spring. His time detained has left him a shell of his former self. Cao has lost more than 50 pounds, said Powell. He has not been able to communicate with Powell or their two sons.
Last fall, Representatives Robert Pittenger and Chris Smith pled Cao's case to then-Secretary of State Rex Tillerson. ChinaAid and World Watch Monitor have more details on Cao's case.
Cao was not the only victim of Chinese religious persecution spotlighted at the ministerial. A representative from the predominantly Muslim Uyghur group followed Powell by sharing his own story.